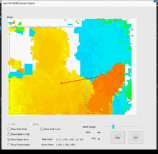 aeroTAP SDK is available for developers to develop application using aeroTAP 3D Camera for Windows platform.
By using aeroTAP SDK, you can obtain Color image and Depth Map in RAW data, Stereo RAW and Rectify data, smoothing Depth Map. SDK also provides Palm tracking , Nearest point tracking functions.
SDK includes several sample code (C++) to use.
■ Obtain Depth Map from aeroTAP3D USB camera
■ Object detection from depth map
■ Palm tracking
>> aeroTAP SDK User's Guide