Assist Features (Extended settings) and it's usage
aeroTAP provides Interface Assist Features that will allow you to operate with one hand (palm) in all kinds of situations. It includes features such as Virtual button and Virtual scrollbar.
aeroTAP can be customized for Digital Signage or Medical use. But those customization will require advanced knowledge of Windows system and Computers. If you have questions, please ask us or skillful engineer near you..
A sample of ini file
Samples for advanced settings can be found in the Sample.ini folder where aeroTAP is installed. Customization will be much easier when you edit these files and put them in C:\Program Data\aeroTAP folder.
For more information about configuration, check the pages mentioned below and Tutorial page.
Hint: After you configure the ini file, open the settings window of aeroTAP and resume by clicking OK or restart aeroTAP to enable the changes made.
What is KeyActionList?
KeyActionList is a useful tool to search for action codes used for defining assist features (aeroTAP extended features such as Drag.ini and Hybridgesture.ini).
For example, the action "Press Enter key" is defined with the number 140. Action code defined includes many actions for keyboard, mouse and to control Windows OS.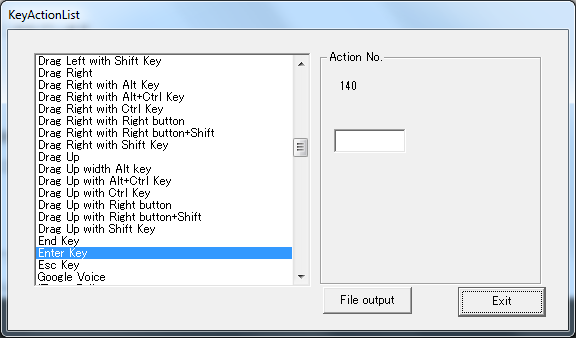 Main Features
When Selecting an item from left list,Action code will be displayed in the right screen,
When you type an Action code, Action name will be displayed in the left screen,
File Output button enables you to export all Action list to text file.
Action Number List
The following table is the context of KeyActionList.
Important: The number assignment may be changed without advance notice, so please check the latest KeyActionList.exe.
| Action Name | Number |
| --- | --- |
| Touch Event - Tap | 18 |
| Touch Event - Double Tap | 19 |
| Touch Event - Tap And Hold | 20 |
| Touch Event - Pinch | 21 |
| Touch Event - Pan | 22 |
| Touch Event - DragLeft | 37 |
| Touch Event - DragRight | 38 |
| Touch Event - DragUp | 45 |
| Touch Event - DragDown | 46 |
| Touch Event - RotateLeft | 39 |
| Touch Event - RotateRight | 40 |
| Touch Event - CrossUp | 41 |
| Touch Event - CrossDown | 42 |
| Touch Event - CrossLeft | 43 |
| Touch Event - CrossRight | 44 |
| Minimize Window | 1 |
| Maximize Window | 5 |
| Ctrl + Win Key | 17 |
| Switch to next Window | 15 |
| Start Screen Saver | 51 |
| CD Tray Open | 53 |
| CD Tray Close | 54 |
| Drag Left with Right button | 76 |
| Drag Right with Right button | 77 |
| Drag Down with Right button | 78 |
| Drag Up with Right button | 79 |
| Drag Left with Right button+Shift | 80 |
| Drag Right with Right button+Shift | 81 |
| Drag Down with Right button+Shift | 82 |
| Drag Up with Right button+Shift | 83 |
| Drag Up with Shift Key | 84 |
| Drag Down with Shift Key | 85 |
| Drag Right with Shift Key | 86 |
| Drag Left with Shift Key | 87 |
| Drag Up with Ctrl Key | 92 |
| Drag Down with Ctrl Key | 93 |
| Drag Right with Ctrl Key | 94 |
| Drag Left with Ctrl Key | 95 |
| Drag Up with Alt+Ctrl Key | 88 |
| Drag Down with Alt+Ctrl Key | 89 |
| Drag Right with Alt+Ctrl Key | 90 |
| Drag Left with Alt+Ctrl Key | 91 |
| Drag Up with Alt key | 96 |
| Drag Down with Alt key | 97 |
| Drag Right with Alt Key | 98 |
| Drag Left with Alt Key | 99 |
| Cursor Up | 100 |
| Cursor Down | 101 |
| Cursor Right | 102 |
| Cursor Left | 103 |
| Mouse Wheel + | 104 |
| Mouse Wheel - | 105 |
| Mouse Wheel +10 | 181 |
| Mouse Wheel -10 | 182 |
| Cursor to Center | 110 |
| Drag Up | 106 |
| Drag Down | 107 |
| Drag Right | 108 |
| Drag Left | 109 |
| Key Up | 132 |
| Key Down | 133 |
| Key Right | 130 |
| Key Left | 131 |
| Left Click | 111 |
| Right Click | 112 |
| Double Click | 113 |
| Right Double Click | 116 |
| Alt Key | 159 |
| Alt + Right Key | 147 |
| Alt + Left Key | 146 |
| Alt + Up Key | 148 |
| Alt + Down Key | 149 |
| Page Up Key | 134 |
| Page Down Key | 135 |
| Space Key | 136 |
| Enter Key | 140 |
| Esc Key | 141 |
| Shift + Left Key | 150 |
| Shift + Right Key | 151 |
| Shift + Up Key | 152 |
| Shift + Down Key | 153 |
| Press Alt Key | 154 |
| Tab Key | 155 |
| Press Ctrl Key | 156 |
| Press Shift Key | 157 |
| Key 0 | 200 |
| Key 1 | 201 |
| Key 2 | 202 |
| Key 3 | 203 |
| Key 4 | 204 |
| Key 5 | 205 |
| Key 6 | 206 |
| Key 7 | 207 |
| Key 8 | 208 |
| Key 9 | 209 |
| Key F1 | 61 |
| Key F2 | 62 |
| Key F3 | 63 |
| Key F4 | 64 |
| Key F5 | 65 |
| Key F6 | 66 |
| Key F7 | 67 |
| Key F8 | 68 |
| Key F9 | 69 |
| Key F10 | 70 |
| Key F11 | 71 |
| Key F12 | 72 |
| End Key | 165 |
| Key '+' | 166 |
| Key '-' | 167 |
| Key N | 168 |
| Key P | 169 |
| Key Q | 170 |
| Key Z | 171 |
| Key M | 172 |
| Key F | 173 |
| Key R | 174 |
| Key X | 175 |
| Key W | 176 |
| Key A | 177 |
| Key S | 178 |
| Key D | 179 |
| Key X | 175 |
| Key Z | 163 |
| Win8 Charm | 191 |
| Ctrl+O | 4638 |
| Ctrl+C | 11550 |
| Ctrl+P | 4894 |
| Ctrl+V | 11806 |
| Ctrl+H | 12062 |
| Ctrl+W | 1822 |
| Ctrl+Y | 12318 |
| Ctrl+Z | 12574 |
| Alt + Tab Key | 286 |
| Alt + Esc Key | 542 |
| Alt + Backspace Key | 798 |
| Shift + Backspace Key | 1054 |
| Alt + Enter Key | 1310 |
| Alt + F4 Key | 1566 |
| Alt + Home Key | 2078 |
| Ctrl + Esc Key | 2590 |
| Left Shift Key | 2846 |
| Right Shift Key | 3102 |
| Left SHIFT Key | 55 |
| Right SHIFT Key | 56 |
| Left CTRL Key | 57 |
| Right CTRL Key | 58 |
| Shift + Up Key | 3358 |
| Shift + Down Key | 3614 |
| Shift + Down Key | 3614 |
| Shift + Tab Key | 3870 |
| Shift + > Key | 4126 |
| Shift + < Key | 4382 |
| Print Scr Key | 5150 |
| Alt + Print Scr Key | 5406 |
| Ctrl + Print Scr Key | 5662 |
| Ctrl + Tab Key | 5918 |
| Ctrl + F4 Key | 6174 |
| Ctrl + PageUp Key | 6430 |
| Ctrl + PageDown Key | 6686 |
| Ctrl + '+' Key | 6942 |
| Ctrl + '-' Key | 7198 |
| Windows Key | 7710 |
| Win + D Key | 8990 |
| Win + Tab Key | 9246 |
| MPlayer Play | 20510 |
| MPlayer Stop | 20766 |
| MPlayer FWD | 21790 |
| MPlayer RWD | 22046 |
| MPlayer Pause/Start | 17950 |
| Synapse Zoom reset | 17694 |
| iTunes Vol. Up | 13854 |
| iTunes Vol. Down | 14110 |
| iTunes Prev Tune | 14366 |
| iTunes Next Tune | 14622 |
| iTunes Prev Album | 14878 |
| iTunes Next Album | 15134 |
| iTunes Full screen | 15390 |
| iTunes Mute | 15646 |
| Adobe ZoomIn | 15902 |
| Adobe ZoomOut | 16158 |
| Adobe AutoScroll | 16414 |
| Adobe AutoFull | 16670 |
| Adobe Home | 16926 |
| Adobe Turn Right | 17182 |
| Adobe Turn Left | 17438 |
| Skype Call | 22302 |
| Skype Video Call | 22558 |
| Skype Dial | 22814 |
| Skype Answer | 23070 |
| Skype Video Answer | 23326 |
| Skype HangUp | 24094 |
| Chrome Open Bookmark | 143 |
| Chrome Add to BookMark | 144 |
| Chrome Open Menu | 145 |
| PhotoViewer L | 23582 |
| Google Voice | 24350 |
| PhotoViewer R | 23838 |